Casino gaming is always changing. And while the games mostly stay the same, the themes and styles evolve. Table games have gone from 2D graphics to live dealer games, while slots have moved from traditional fruit machines to multiple pay lines, dazzling games with huge bonus rounds.
But the real evolution is with live gaming, an area that has become more and more popular. We look at how it used to be compared to the exhilarating new games you can expect now, providing players with a novel form of entertainment.
Table games get a revival
When online casinos first brought classic table games online, it was a revolution. But that movement stagnated in the noughties when, despite the release of 3D Blackjack and Roulette, etc., something needed to be added. Something exciting and different from the typical video game feel of these classics. Then live dealer games brought in a whole new era.
You now had the opportunity to play a table game show broadcast from a studio. And it was all live. The dealer standing in front of you was dressed to the nines. They'd deal your chips, spin the Roulette wheel (or deal cards) and interact with the players. You could get the casino experience, the real casino experience, without having to set food outside.
Then things got better
Like all online casino games, there were better graphics, visuals, and new games, all being released constantly. But with live gaming, it was the experience that kept on improving. Some live dealer games were now broadcast from real-life casinos, not just studios, to create an even more lifelike experience. Then there were different variations of the games to keep things fresh. 
But then live gaming started to go down the entertainment route. You can now get that Saturday night buzz while playing a game that generates real cash prizes. This time you get involved from behind the screen rather than just spectating.
There's a huge entertainment value to it – the bright lights, the wacky presenters, and an ever-growing number of games. It's starting to put the rival traditional table games to shame.
Entertainment at its best
Head somewhere where you can play game show titles galore, and you'll be truly spoilt for choice. Here are just some of the most popular games to enjoy:
1. Mega Ball
Bingo doesn't get much better than Evolution Gaming's Mega Ball. It combines the best of bingo cards and numbered balls and is played quickly. Throw in the entertainment value from the host as well, and you'll get lost in Bingo. Not too lost, though, as you'll want to try and land at least six lines to win up to 100,000 your bet.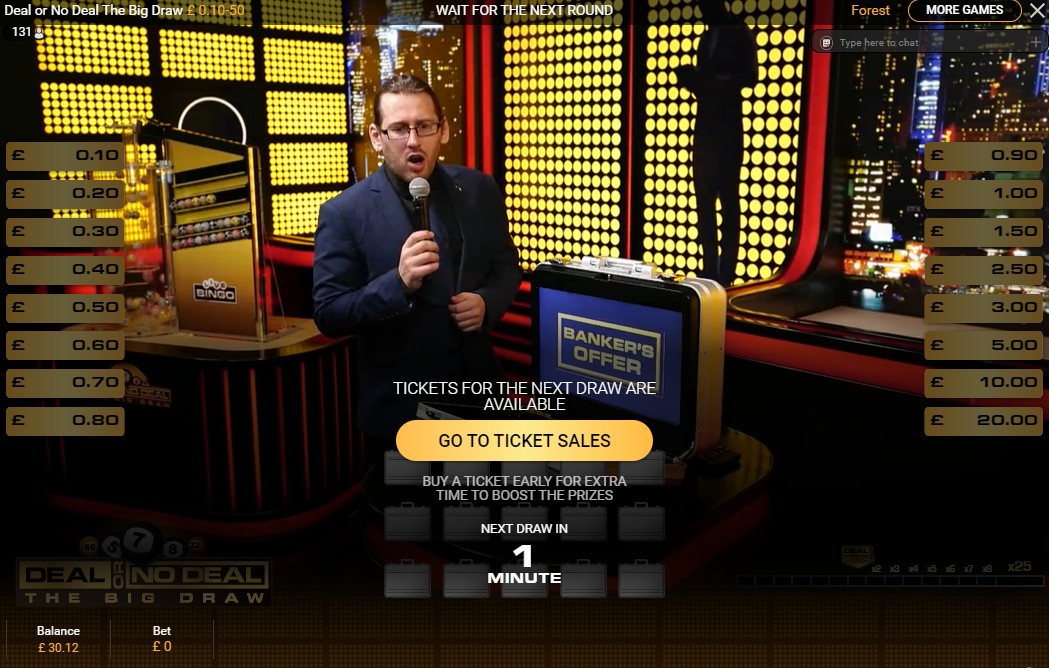 2. Deal or No Deal
You don't need Noel Edmonds to enjoy Deal or No Deal. Not when you can play the live casino version of the game. It is the same as the TV show, with the host guiding you through and taking calls from the Banker. There is no need to complete a procedure of trying to get on TV to play this game not now; you can do it whenever you like online.
3. Monopoly Live
It's the game show that can break families when they play Christmas board games. But when you play the live entertainment version, you can keep families intact! There's a wheel of fortune type aspect to the game, which helps you move across the board. It's a new, exciting way to play the game.
4. DreamCatcher 
Since its launch in 2017, DreamCatcher still remains one of Evolution Gaming's most popular entertainment games. It uses the same money-wheel feature as in Monopoly Live, but the main goal of the game is to bet on which number the wheel will land on. With camera close-ups, a bright studio, and a fun presenter, it's one of the simpler games to play. But also one of the most enjoyable.
5. Crazy Time
So DreamCatcher might have set the mood, and Monopoly expanded on this. But Crazy Time adds more frenzy to the live wheel-spinning games. It's high-octane, so you won't get bored as you mix, match, and place bets on winning numbers. There are also bonus features such as, you guessed it, Crazy Time, which could see you winning a huge prize of up to £500,000.
6. Boom City
Moving away from the money-wheel games, you can enjoy an easy roll-the-dice type game on Boom City. Using a six-by-six grid as the backdrop and two dice, you simply roll the virtual dice, and the presenter will reveal if you've landed on a winning colour square or not. It's simple to play, but the live element adds some extra oomph to the experience.